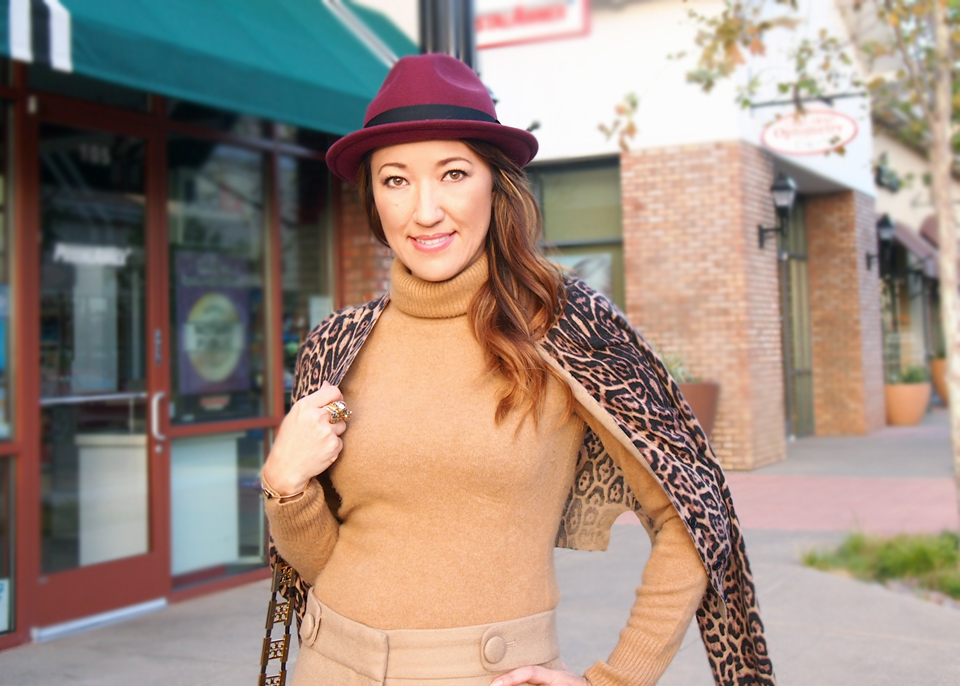 Mood: Challenged
Weather: Partial sun, partial clouds, chilly
Outfit Purpose: Stylist at Work / Out & About
Style Savvy: Today's outfit was inspired by one of my favorite style icons and actresses Katharine Hepburn. One trend that's a must-do this Fall/Winter is the Mid-Century look. Pairing a nipped at the waist, long full skirt or below the knee pencil skirt would be more ideal for Mid-Century because pants weren't so popular for women during that time period. Unless, of course, you were Katharine Hepburn. My cashmere sweater and wool lined pants both from J. Crew in camel goes to show investing in the classics will translate year-after-year (I've had these pieces for years).
I wanted to add a pop of color so I paired my BCBG Max Azria felt fedora and Zara heels both in bordeaux. For a little texture, I threw on my BCBG Max Azria leopard print cardigan and buttery leather Tory Burch handbag. BTW, my handbag was in her first collection of bags she introduced to her brand and only made 100 of them. I have any eye for these things.
Personal Style: Mid-Century Modern
Thoughts: I feel that the universe has been challenging me since the end of last week. Everything that I thought or planned or wanted to go smoothly hasn't. It's been okay because I know it's out of my control so why stress over it? Today I couldn't stay positive or patient anymore. I can give you list of the "what went wrongs" but when I roll through the list in my head they aren't major catastrophes. I'm simply trying to plan and organize things before I leave on my trip Wednesday morning and I feel like I have to keep putting out unnecessary fires. It's as if the universe is saying, "we need to keep her on her toes, so let's throw this at her." Thanks but I really don't need anymore more toe tapping, please! That's it. I'm good. Tomorrow is a new day, beginning with a 5AM wake up call to get ready for my morning news style segment. I need to get to sleep!
READ what inspired me to do this challenge by CLICKING HERE.