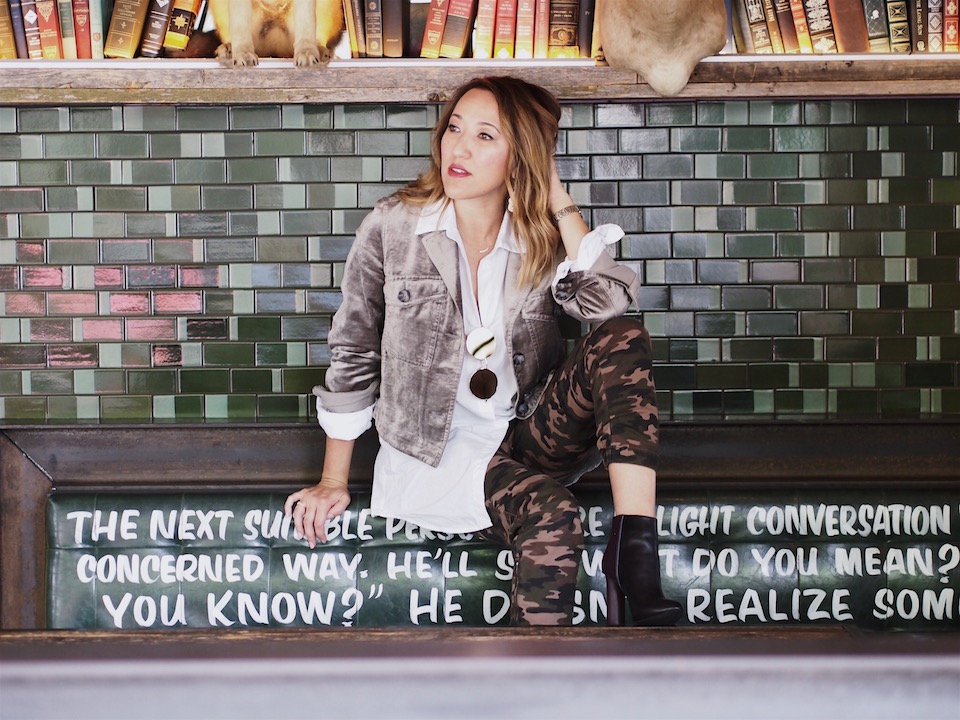 I've been ooing and awing over this year's Fall trends. I'm featuring my favorite trends here on the blog, so follow along for style inspiration that you can actually wear. If you're like most women, it can be challenging to add trends into your existing wardrobe.
That's okay, because this is my favorite thing to do! I love showing you how to create many looks with just one new piece of clothing for work, play, kicking it or a night out.
Two trends that keep recycling are camo and velvet. If you're thinking of wearing camouflage to work, stick with a blouse or a pencil skirt. Inject a bit of velvet with your accessories from shoes to bags if you're not hot on wearing it on your body.
Below I'm combing both trends into one look. A silvery grey velvet jacket by Cabi and a camouflage jogger pant by White House Black Market.
Savvy Style Tips: For an evening out, I'd wear the Cabi velvet jacket over a LBD or black jumpsuit with high heels and studded clutch. This would also look great with deep purple, navy, mustard yellow, any shade of pink, cranberry and reds. Depending on the dress code at work, you could wear this camo pant by pairing it with a button down shirt, blazer and pumps.
In other news…I'm getting married next year 2018 and I'm posting my wedding planning experience here and on Instagram @savvynista. Follow along and see if I get to bridezilla status, LOL.