Ladies who love their shoes will probably agree that fall and winter are probably the most exciting seasons style-wise as they trade in their sandals for a favorite pair of boots ranging from ankle to OTK, chunky heel to peep-toe. Despite the seasonal factor of boots, there's no rule that states you can't wear them in the warmer months. In fact, as long as you have the following pairs you could be wearing them all year long!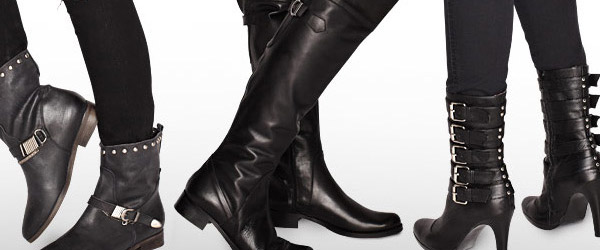 (image credit: shoevanity.com)
The Moto Boot
The obsession with hardware boots has reached new heights as more fashion bloggers share their style inspo on feminizing the moto style. Your instincts may tell you to put on your ripped jeans and biker jacket but in reality there are dozens of ways that combat boots can be worn. Think feminine, wearing this boot with a floral dress or something lacy as suggested by Vogue. Better yet, pair with this Spring's comeback trend … the slip dress.
The Ankle Boot
Booties are a staple item because they can be worn year-round. Ankle boots are the finishing touch to any boho dress during the summer or transition that summer look by pairing it with a jacket for a fall outfit as shown on Gurl. During the winter season ankle boots look fabulous when layered with socks, tights or leggings.
The Stiletto Boot
There's nothing quite as sexy as the stiletto heel especially when merged with boots. Who What Wear explains that the combination is sleek and chic because of the stiletto's height along with the boot's cool vibe. These boots are perfect for a night on the town or a hot date.
The Rain Boot
Whoever thought that Wellingtons aka "wellies" were the least fashionable in the boots category clearly hasn't seen the latest styles of rain boots. Lyst suggests that it's possible for us to "stay stylish when braving a downpour of the muddy festival circuit" with their selection of wellies. Practical and stylish, a fashionable combo to complete your shoe collection. Who what of thought?
The Thigh High Boot
Though thigh-highs can look rather distasteful if styled incorrectly, they're an absolute must for your fall and winter wardrobe as they keep your legs nice and warm and can really pull an outfit together like no other boot can as shared by Huffington Post. The key is to either wear them with a conservative neckline, jeans/leggings or a sweater dress to minimize the amount of skin showing between the hem and the end of the boots.