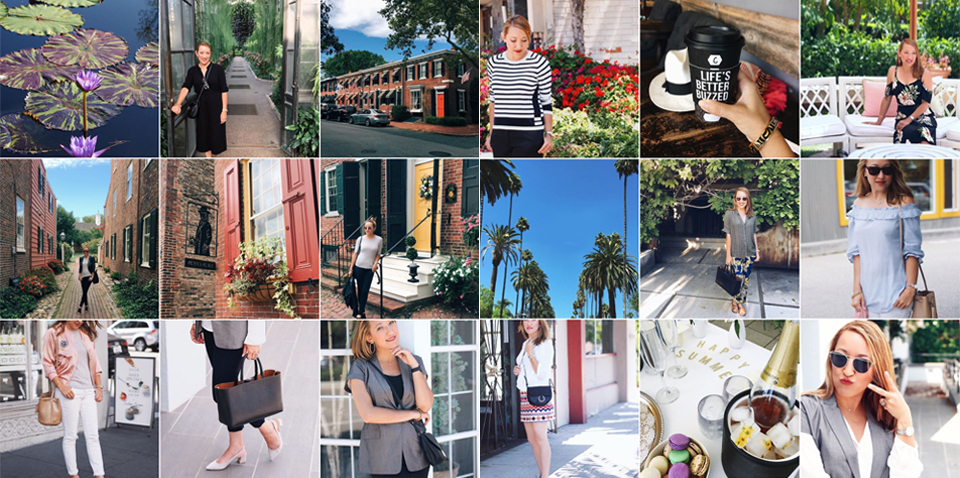 Creating a visually beautiful Instagram feed isn't as difficult as you think. Even though this post is geared towards fashion and lifestyle bloggers, anyone can use my savvy tips for creating a cohesive IG gallery.
First of all, let's just get one thing out of the way. You don't need to have a professional photographer shooting your photos or a crazy expensive DSLR. Most popular blogger feeds are shot with their iPhone. My IG photos are a mix of using both my iPhone and digital camera. You just need to stick with a consistent theme. If you're not sure how to shoot high quality photos from you iPhone/smartphone, read my 15 Tips HERE.
An amazing individual photo will get "likes"

A cohesive theme will get "followers"

A caption that shares something personal or a piece of information your followers can apply to their lives will get "comments"
Who's Your Audience?
Ask yourself how you want your followers to feel when they look at your IG feed? Inspired? Happy? Intrigued? Funny?
As a blogger, you have to think of yourself as brand. What do you have to say to your audience that is authentic to who you are? Write down, yes on paper, words that describe yourself. After you're done, start crossing off the words that don't describe you on a daily basis. See which one's are left and that should help you with your brand.
Choose a Color Theme
This is the most important in creating the cohesive look you see other popular bloggers implementing. Figuring out your color palette shouldn't be too difficult, just look at your wardrobe and see what colors dominate. Do you lean towards more black, white and grey but have a lot of pink accents or accessories? Or do you lean towards bright and colorful clothing and accessories all year round? This is just a starting point. You don't have to stick with a color theme forever.
When you decide to introduce a different color palette to your IG feed, use the 6 or 9 image block rule when posting your photos. Post at least 6 photos with the "new" color you want to feature. Editing your photos will help keep your color theme cohesive. Here are a few blogger examples that have very cohesive IG feeds.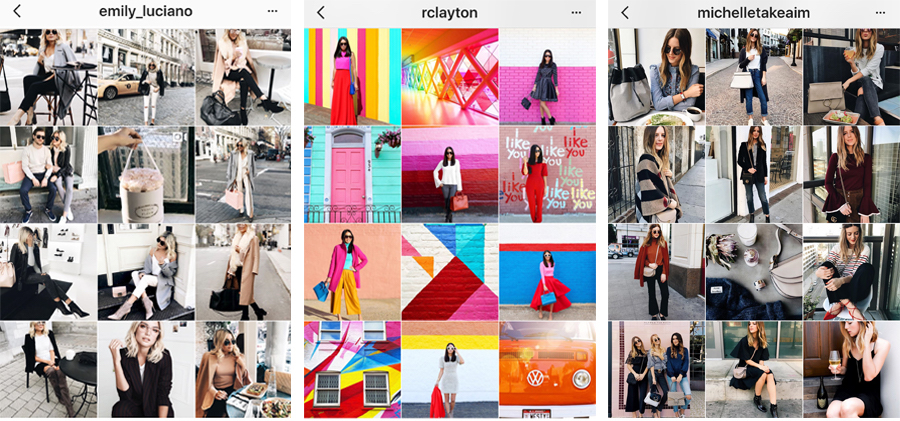 Instagram accounts via: @emily_luciano, @rclayton, @michelletakeaim
Editing Routine
Pick a photo app(s) that gives you the most flexibility or is easiest to use. Use similar settings for all your images. Decide if you want your photos to be bright or less saturated. Warmer or cooler. Play around with lighting, contrast and temperature. Then choose 1-2 filters or no filter if you get in the habit of adjusting your photos with just settings.
Editing Apps I use:
Facetune (smooth, details, reshape, defocus)
Snapseed (selective – brighten up my face if it's darker than the rest of my body)
PicsPlay Pro (white balance, curve)
VSCO (filter)
Planning Your Feed
This part is fun for me because it's like putting a puzzle together. I use UNUM because it's easy and free with a few great features. You can upload images and move them around to different boxes to see how it will look visually. The other feature that I love is the temporarily hide option. Once in awhile I'll post on Instagram things that may not totally fit my feed. This happens when I feel like I have to post something because I haven't in a day or two or three. BTW, don't fall into this trap. Just don't post anything, you're better off.
Okay back to this "hide" feature. You can click on the photos and see what your feed will look like if it's deleted. If it looks more cohesive and it's not important, then delete the photo in Instagram. If it doesn't make that much of a difference, then keep it. As I mentioned, I like to do a little IG house cleaning from time-to-time and this helps.
Other features include best times to post, adding your caption and hashtags and scheduling posts.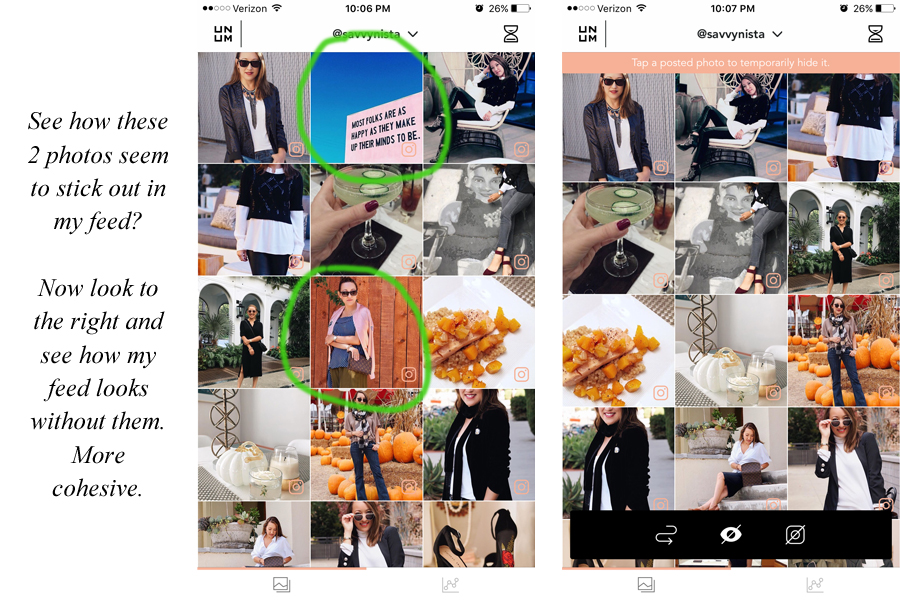 Instagram account above used for example is my own @savvynista.
I hope these savvy tips help you create an aesthetically pleasing and cohesive Instagram feed. If you have any comments or questions, leave in comment section below. If you want to get articles more like this straight to your inbox, become a Savvy Insider by signing up below as well.
Be savvy, shop smart and stay stylish! Maria