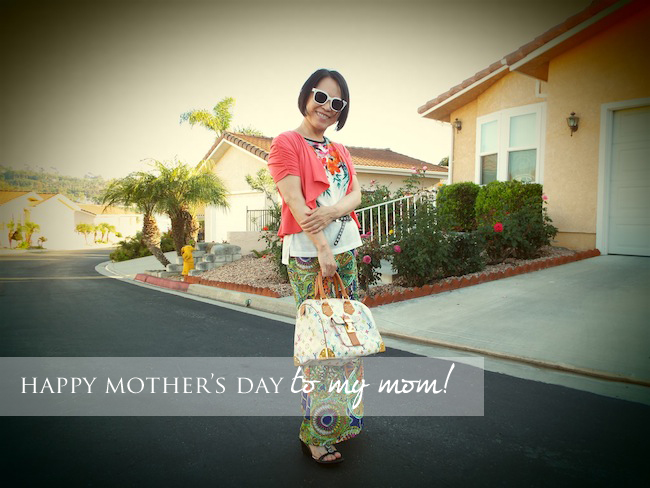 I couldn't resist using my mom for a style post and how apropos to feature her on Mother's Day. This is her special gift from me. She had so much fun posing in her classic SoCal style. Ever since I can remember, my mom never left the house (and still does today) without being fully dressed from head-to-toe always paying attention to detail. She's also my biggest cheerleader in life and I love her immensely. Her "American" name is Fifi and you can always catch her with her sidekick Chihuahua Goldie. She also has an Instagram account with her dog Goldie @fifigoldie.
While I was visiting the past few days, I noticed her wall clock was 5 minutes slow … once again. I told her that I was going to buy her a new clock and she reminded me, "In Chinese they say that it's bad luck to buy someone a clock or watch because in Mandarin the word clock sounds exactly the same as the word 'end'. You don't want to be giving someone the end of their life." Another one is to not put your handbag on the floor or ground because that means the money goes out of your purse, you want the money to come in. Although I half heartedly believe these superstitions, I still try not to put my purse on the ground.
Happy Mother's day to all the moms out there and to my beautiful, zany, hip mother.