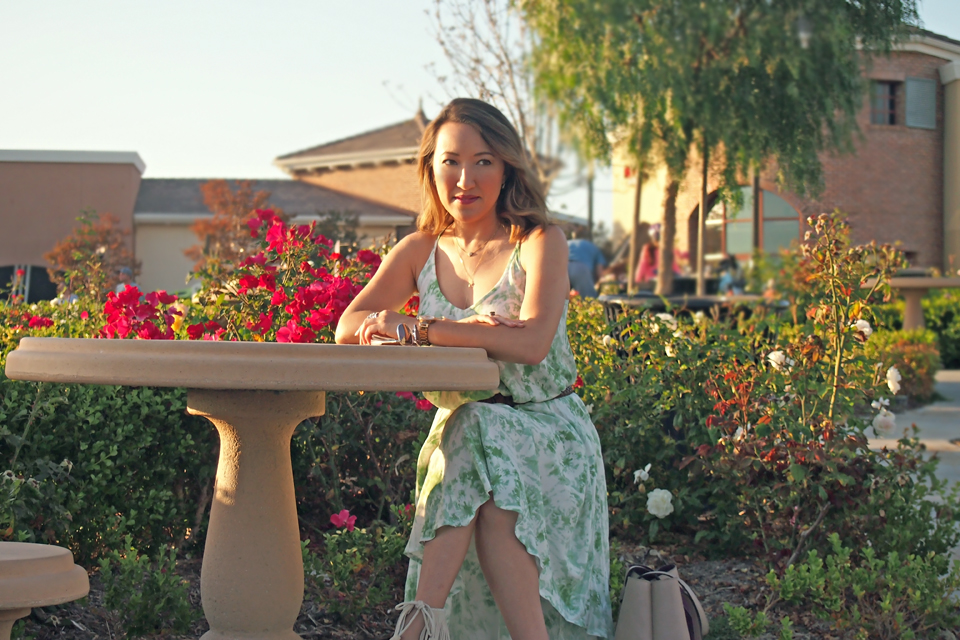 Being the savvy stylist that I am, I love to share how to wear pieces in your closet many different ways. Maximizing pieces is key to having a wearable wardrobe. Not a wardrobe that is only being used 10% of the time. Think of all that closet and drawer space you could neatly organize if you made your wardrobe work for you. This weekend I'll be working with a new personal client helping her streamline her closet for maximum wearability.
In today's outfit post, I'm wearing a summer dress by Lovestitch (available soon at ShopBohoChic.com) that can be worn dressed up or casually. If you're planning on attending a summer street fair or grabbing fresh produce and lunch at your local Farmer's Market, opt for this casual look with a suede fringe vest and suede ankle boots to match your free-spirited bohemian vibe. For a weekend brunch, guest of a summer wedding or date night, amp up this dress with a sexy fringe high heel and belted waist.
Savvy Style Tip: Jewelry elevates any outfit. Necklaces, rings and bracelets add a touch of who you are because jewelry is a personal purchase. Don't forget to wear it. This summer try a bold cocktail ring and ditch those teeny tiny rings on every single finger. You know what I'm talking about.
I'm Wearing
Lovestitch dress (avail soon ShopBohoChic.com)
Forever 21 fringe suede vest
Dolce Vita ankle boots (spring 2015)
Zara fringe heels (new, still in stores)
Gold Infinity Cuff by mimi & lu (avail soon ShopBohoChic.com)
Michael Kors rose gold & crystal watch (old)
Michael Kors crystal heart pendant necklace (old)