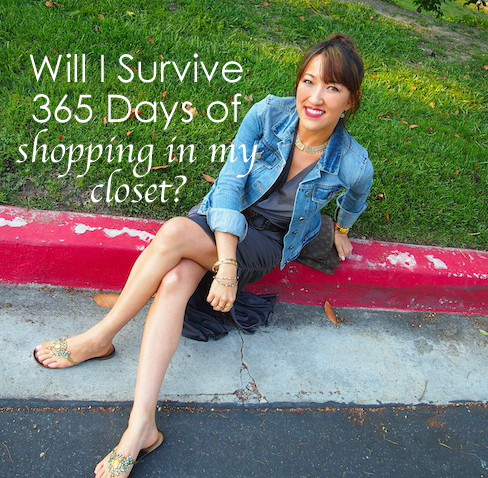 What happens to a stylist-slash-fashion-expert-blogger when she gets the news right after celebrating 6 years of marriage on a romantic vacation in Belize from her husband that he doesn't want to be married anymore and she needs to move out? Why of course she goes on a shopping binge. After uprooting my entire existence to a new city (San Diego where my immediate family resides) and 2 months of binging on fashion I had a reality check when I finally looked at my bank balance. The pain I was trying to numb out grew worse when I realized I pretty much spent all my savings.
After this wake up call, I needed to do something drastic. No shopping was in order. But for how long? I realized 30 days, 60 days, 6 months wasn't significant enough. It had to be for a whole year. Yes 365 days in a row. This would be my challenge and to Shop My Closet, take photos and blog about it daily.
This Column "Shop My Closet 365 Days Challenge" is basically a daily diary which shares insight to my journey through healing and hope and how I used a big life change/challenge for inspiration and motivation to create the life I've always dreamed of. Somewhat of an Eat, Pray, Love but through fashion.
** Listen to my radio interview by CLICKING HERE.
Like I mentioned, I've been trying to numb out feelings by binge shopping. The past month and a half I've gone through a very sad and quick separation, now divorce from my husband of six years. So to feel less pain, less anguish, less sadness, less loneliness, I've been checking out – literally – at the shops. A wake up call hit me when I looked at my bank balance and the epiphany came while reading Paris Street Style: A Guide to Effortless Chic by Isabelle Thomas and Frédérique Veysset. Three quarters of the way through this book I realized that I used to have a stronger sense of my own personal style.
In my twenties I use to wear pieces of clothing that resonated with me, not what was on trend or who was wearing it. I would take vintage pieces and make them fresh or modern by styling with new accessories. I was more confident, adventurous and creative with what I owned. I had to because I didn't make a lot of money in my twenties. I was savvy about my purchases, meaning I paid more attention to quality and the details like fabric, stitching, buttons and I would ask myself, "Will this last me year after year?" I did have a very sober and Parisian attitude towards dressing back then. That's probably why my first business I started was a vintage clothing boutique. I didn't care so much about labels, I cared about finding unique, long lasting, cool and chic pieces that nobody else had.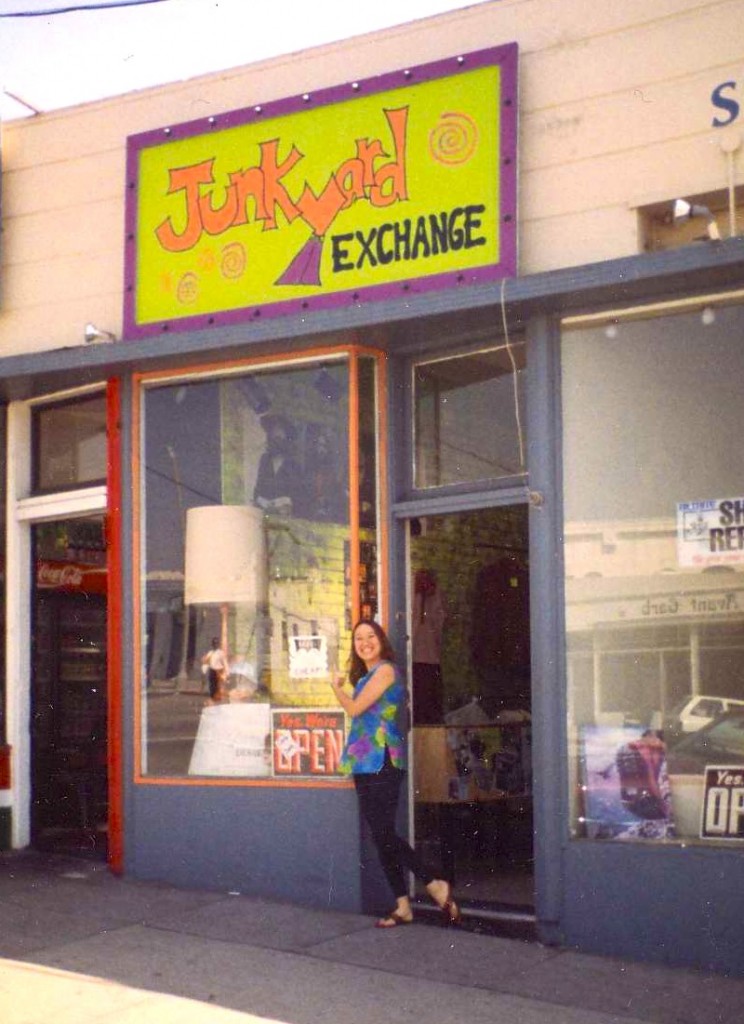 ~ Standing in front of my vintage store in Hermosa Beach, CA 1993 ~
You're probably thinking, "What's wrong with buying something new?" Absolutely nothing! I think it's great adding to your wardrobe BUT when it makes sense. Not because you happen to be digging through a sale rack and pull something out thinking, "This is cute and it only costs $20 what the heck I'll wear it a few times." What purpose did that $20 item fulfill? Does it serve a purpose in your wardrobe? Do you wear it now? If you added up all those $20 items you bought, could you have actually spent it on something more unique that you're proud to pull out month after month, year after year? I'm just trying to encourage myself and you to think about quality over quantity and incorporate more fun, creativity and personality into dressing again.
If you're still reading this, here's my point … I'm challenging myself and you if you want to take this challenge to shop in your closet for 365 days in a row without purchasing any fashion. It's the 365 Days Shop My Closet Challenge. That means no shopping at H&M, Target, Forever 21, sale racks at Bloomies or Nordies, Wasteland, Crossroads, Goodwill, etc. AND nothing off those websites either that offer good deals on mid to high designer items just because it's a "good deal". Try to get creative while doing this challenge. Mix and match pieces you never thought to put together instead of throwing on those "go-to" outfits every week. Accessorize differently. Have fun and see if you can find your own personal style.
THREE exceptions during the challenge: 1) If you've lost or damaged a staple item in your wardrobe and need to replace it (e.g. blazer, leather jacket, denim jeans, white t-shirt or button up, you dig?) 2) If you were GIFTED a piece of clothing, accessories, bags, etc. 3) Attending an event or special occasion – first try to see if anything works in your closet. If not, set aside a sensible budget to purchase something of "quality" that you'll wear year after year.
Everyday I'll be blogging about my progress, how I'm feeling and outfits during this challenge. I'm starting TODAY July 7, 2013 – July 7, 2014. CLICK HERE to view Day 1 outfit for this challenge.