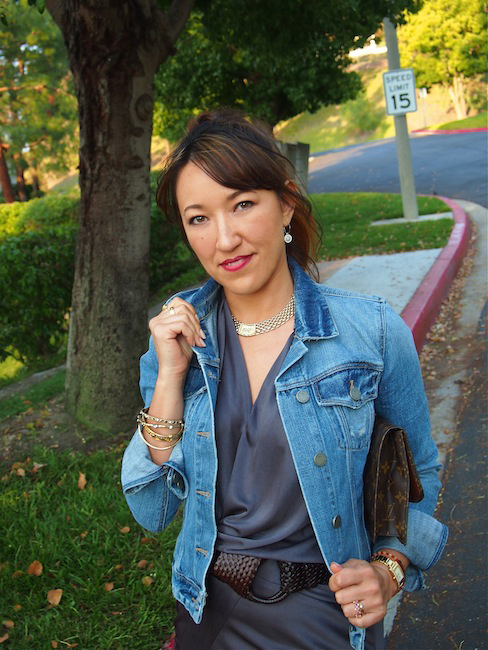 Mood: Hopeful
Weather: Sunny, warm and slightly humid, cooler at night
Purpose: Styling an outfit for my sister's birthday bbq dinner at her house.
Thoughts: For my first day of this challenge I really wanted to rummage through everything I owned to find something that I've had for awhile and make new again. I ran across this Max Azria Runway Collection dress I bought in 2009 for my high school reunion and at the time dressed it up for an evening look with Louboutin heels and my hair down.
Style Savvy: I used this dress as the foundation to my look instead of a typical summer maxi dress. To make it more casual, I paired it with my Paige denim jacket, Guiseppe Zanotti jeweled sandals (circa 2007), braided wide belt, understated vintage Louis Vuitton clutch, vintage panther necklace and mixes of new and vintage bracelets.
Personal Style: You're probably thinking this looks way more dressed up than the average woman would wear for a bbq dinner and yes you're probably right. BUT this is my personal style of adding those touches that make me feel good like all my vintage gold jewelry and jeweled sandals. Hey at least my hair is in a messy ponytail, doesn't that count for casual points?
What's Going On With Me: Starting this crazy challenge for starters which is exciting but also nerve racking. I mean can I really pull this off? I don't think I've ever done this in my whole entire life. Even when I was a child my mom would take me shopping at least 3 times a year to stock up. I'm also worried about my two cats. One is 17 and frail, I think she's not going to be around much longer. The other one is 7 years old but she seems depressed today, she's been hiding in my closet and usually she's outside bird watching. I think she misses her daddy (my soon-to-be ex-husband). Or maybe I miss him and I'm just projecting my feelings onto her. Who knows. That's all for now. Don't forget to check back tomorrow for Day 2!
READ what inspired me to do this challenge by CLICKING HERE.